Zion Williamson HYPE!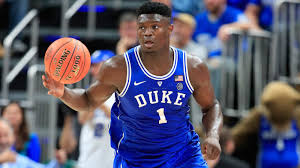 Thao Vang, Journalism Student
November 16, 2018
Zion Williamson, a freshman basketball player from Duke is the next SENSATION.
And in his Duke debut against the highly regarded Kentucky, with 28 points and 13 rebounds capping the night off on a historic night as he broke Dukes historic point record from Marvin Bagley lll of 25 points, but only to be bested by his teammate, RJ Barret with 33 points, as Duke had a historical night of THREE of their freshman players outscored Kentucky by 89-84 ALONE.
Zion along with RJ Barret are now part of the historic draft class of 2019, that is of they try for the 2019 NBA draft after their 1st year of college.
Zion even though statistically was bested by Barret, he did not disappoint in his debut, as he ohh-and-ahh'd the crowd with his explosive ability to get the rim, and with doubters of him unable to hit the three-ball, Zion silenced them hitting a three-pointer in the game, even though it was his only attempt.
Zion will now seek to dominate college with his fantastic play on the court, and is now looking forward to the upcoming season of other teams he must face to prove his worth as a player.