North's Jana Hedlund a SEMIFINALIST for Minnesota Teacher of the Year!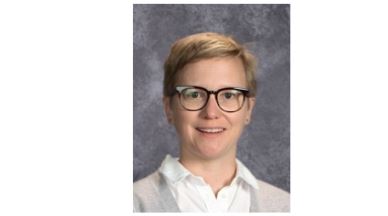 There is a celebrity in our midst. Ms. Jana Hedlund, who teaches at North High in the special education department, is a nominee–and now, a semifinalist–for Minnesota Teacher of the Year.
In this program, which is organized and underwritten by Education Minnesota (the state's largest teacher's union), Ms. Hedlund was one of 168 teachers originally nominated. In February, the group was narrowed to a group of 40 semifinalists, and she was among the group. Later this spring, the field will be narrowed to a smaller group of finalists, and the Minnesota Teacher of the Year will be named at a May 5 banquet at  RiverCentre in St. Paul.
Ms. Hedlund shared a bit about her background and this exciting experience:
Polar Prints: How does it feel to be a semifinalist?
Ms. Hedlund: I am excited to be a semifinalist in the Teacher of the Year program. It was an honor just to be nominated, so making it to the next level is really cool. I'm proud to represent North and be a voice for public education.
Polar Prints: What can you tell us about your philosophies/opinions about teaching?
Ms. Hedlund: I believe that educators are not just responsible for teaching the basics of reading, writing, and math. We are responsible for helping students become critical thinkers, problem solvers, and overall good human beings. To do that we have to help create a community where students feel safe and cared about so they are able to do their best in school and in the outside world.
Polar Prints: What comes next?
Ms. Hedlund: The next step in the process is to submit a short video discussing an issue of educational equity and how it impacts our students at North. From there, the selection committee will select about 10 finalists at the end of March. In May, they will name the Teacher of the Year.
Polar Prints: What else can you tell us about yourself?
Ms. Hedlund: I didn't always want to be a teacher. I didn't study education my first time in college. In my 20s, I worked with adults with disabilities, coaching Special Olympics and leading recreational activities. That's when I decided that I wanted to be a Special Education teacher, so I went back to school to get my teaching license. It's never too late to figure out what you really want to do! This is my 10th year teaching (7th at North), and I keep learning new things every day.
Congratulations, Ms. Hedlund–and GOOD LUCK!