Profiles in Black History: Lonnie Johnson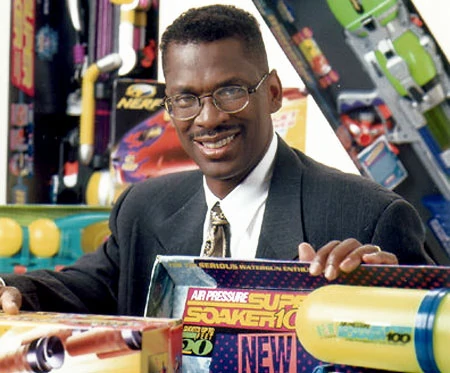 Think of when you were younger playing with your friends – playing with super soakers on hot and sunny days, or setting up forts and having nerf gun wars across the house. Have you ever stopped and wondered where the idea of water and nerf guns came from? Well, you can thank the accomplished African-American inventor and engineer Lonnie Johnson. Johnson is a former NASA and Air Force engineer who accidentally came up with the idea of many people's favorite childhood toys. 
Before Johnson brought his ideas to the toy industry, he was an engineer for NASA, where he worked on spacecraft that were sent to places like Mars, Jupiter, and Saturn. In 2003 Johnson invented the "Johnson Thermoelectric Heat Converter"(JTEC), a solid-state heat engine that was named Top 10 World Changing Technologies by Popular Mechanics in 2008.
In 1989 Johnson created his own firm named the Larami company, licensed his toy ideas, and began selling products. The Super Soaker and Nerf gun products generated 200 million in retail sales and became the number one selling toys in America. The inventions were eventually bought out by Hasbro, the #1 toy manufacturer in the world. Today the Super soaker has made close to 1 billion dollars in sales.
Johnson wasn't always as accomplished as he is today. Born on Oct, 6,1949, he grew up in the days of legal segregation, which was an obstacle for Johnson. Even in his early days as a child, he was very curious and gifted; he would take a lawnmower engine and make his own go-cart using scraps he found in the neighborhood junkyard. He attended an all-black high school where he would compete in a science fair that was hosted at the University of Alabama. He entered an air-powered robot by the name of "Linex" which won him first prize. After high-school Johnson attended Tuskegee University where he  graduated with a master's degree in nuclear engineering. This led to a job at OakRidge laboratory. A few years later Johnson landed a job working for NASA as an Air Force and space engineer.
Today Johnson has over 200 patents for his inventions,  his own accomplished company, was awarded an Air Force commendation medal, and was accepted into the state of Alabama's Engineering Hall of Fame. Johnson is also now seen as a Black technological pioneer because of his achievements and breakthrough ideas.